I'm well aware that plastic flower crowns are "inauthentic," that they're a summer 2015 hipster trend, that the authenticity, and that some people can't stand them.
But honestly, I think they're great. They're simple, whimsical, and summery.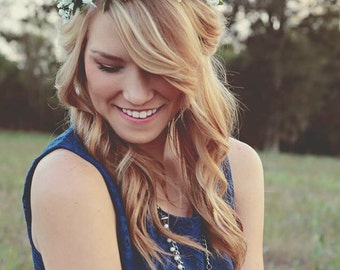 Seriously, these are gorgeous!
So even though they were the big thing two years ago and I'm a little behind, I wanted to make my own. None of the tutorials I found quite cleared things up for me, so I tried winging it. The first few results were…discouraging. After the other projects on this blog so far have gone so smoothly, I'd gotten a bit overconfident. But I'd already bought the materials, so I had to try a few more times.
After a lot of experimentation, I've found a reliable, if tedious, method of making beautiful flower crowns.
Materials:
Floral wire

Floral tape (self-adhesive)

Floral wrap or regular ribbon

Plastic flowers

Hot glue gun

Scissors
Cut 2 pieces of floral wire to fit loosely around your head, with an extra inch or two left over.

Twist them together to create a stronger base for your crown.
Bend the ends in to create loops that can interlock.
Wrap floral tape around all but the bent edges of the wire.
Using small amount of hot glue, cover the floral tape with floral wrap.
Hot glue your base greenery to the floral wrap.
Using thin strips of floral wrap and small amounts of hot glue, secure the greenery every inch.                                            
Use hot glue to attach additional decorative leaves and flowers.
This slideshow requires JavaScript.
Here's some pictures of my beautiful sisters looking magical in a few of the flower crowns I made using variations of this method.
The Takeaway:
While time consuming, this project is easily personalized and completely doable if you have some patience.
Tips:
For one crown, 1 branch of greenery and 1 of flowers is more than enough.

When positioning the plants on the crown frame, keep in mind how it will sit on your head (basically, don't glue on a bunch of stuff that will hang down and make it  difficult to keep the crown on).


You'll have to carefully pick off all the hot glue strings once you're finished.